Florida Climate Resilience Survey - April 2020
---
FAU Poll Finds Climate Change is Still Important Topic
for Floridians in Era of Coronavirus
More Republicans Believe in the Issue, But Residents Wary of State Response
The coronavirus crisis has not altered Floridians' belief in climate change, according to the third Florida Climate Resilience Survey, conducted by the Florida Atlantic University Center for Environmental Studies (CES) in FAU's Charles E. Schmidt College of Science, and the Business and Economics Polling Initiative (BEPI) in FAU's College of Business. This quarterly statewide survey polled 1,319 Floridians from April 1-13 and from May 4-10, when many of the state's residents were under stay-at-home orders due to the pandemic.
Highlights
89% of respondents believe climate change is happening, up from 86% in January 2020 and 88% in October 2019.
55% of Floridians say that humans are causing climate change, a level consistent with the two previous CES-BEPI surveys.
29% of respondents believe the government is doing enough to combat the issue, which is lower than the 33% from the January survey and similar to October's 28%.
The April survey results show rebounds in concern among Floridians regarding environmental health (68%; previously 61% in January 2020 and 66% in October 2019) and access to clean water (68%; previously 63% in January 2020, and 70% in October 2019).
Self-reported household preparedness appears to have slowly been on the decline moving into the pandemic and hurricane season; 59% of Floridians agreed they were prepared in October, 55% in January and this has slipped to 54% in April.
Willingness to pay $10/month to strengthen Florida's infrastructure to weather hazards may be starting to decline; results show 44% support for the possible initiative in April 2020, 47% in January 2020, & 47% in October 2019.
Democrats still appear to believe in climate change more than their Republican counterparts (89 percent versus 86 percent), but the Republican percentage was higher than it was in January (81%) and October (83%).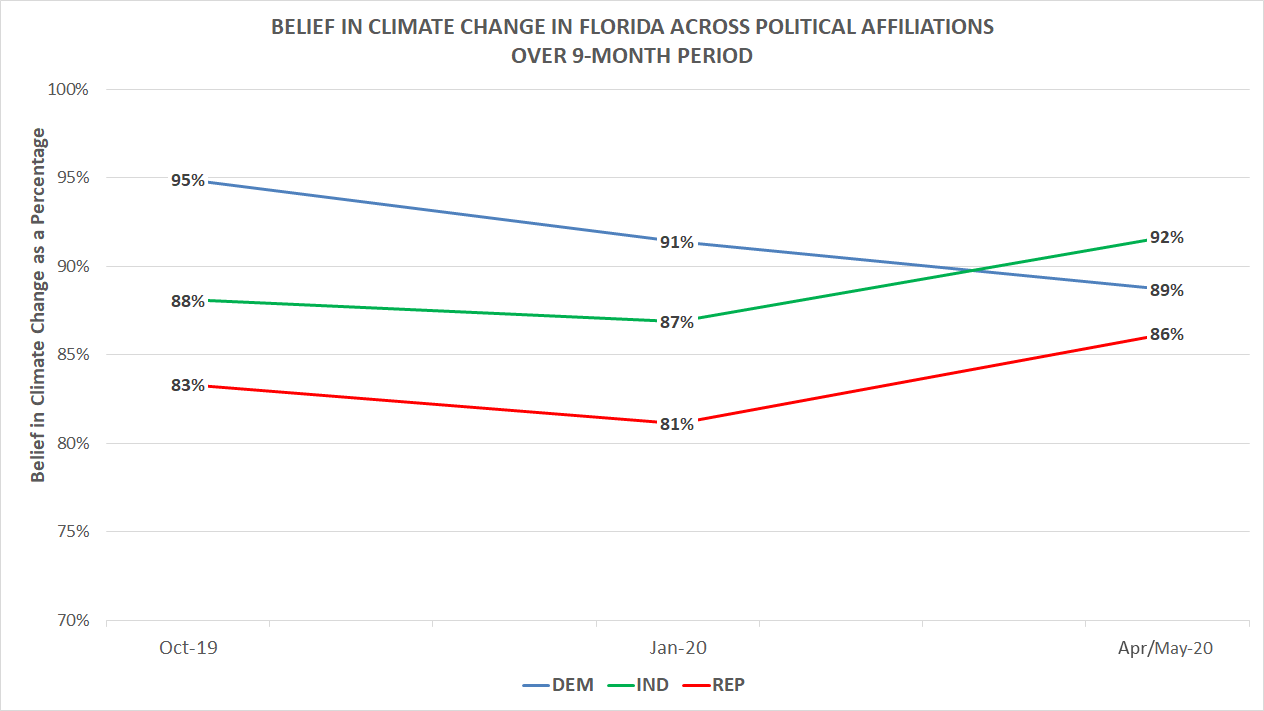 Methodology
The survey was conducted in both English and Spanish from April 1-13 and May 4-10. The sample consisted of 1,319 Floridians, 18 years of age and older, with a margin of error of +/- 2.7 percent. The data was collected using an online panel provided by Dynata. Responses for the entire sample were weighted to adjust for age, race, income, education and region according to recent U.S. Bureau of the Census data. It is important to remember that subsets carry with them higher margins of error, as the sample size is reduced. For more information, survey results, and full cross-tabulations, visit www.ces.fau.edu/ces-bepi/ or contact Colin Polsky, Ph.D., at cpolsky@fau.edu.
In the News