Erin Albury, Assistant Director, Florida Forest Service, Department of Agriculture and Consumer Services
Erin Albury is the Assistant Director for the Florida Forest Service. Erin began his Florida Forest Service career in 1997 and has served as County Forester, Forest Area Supervisor, District Manager and Field Operations Bureau Chief over the course of his career. In his role as Forest Area Supervisor for nearly nine years, Erin was directly responsible for the prescribed burn program on the 48,000 acre Citrus Tract of the Withlacoochee State Forest. In his current role, Erin oversees the prescribed burn program on the agency's 37 state forests which encompass more than a million acres. Erin is a certified prescribed burner and a graduate of the University of Florida where he earned a Bachelor's Degree in Forest Resources and Conservation. 
Brian Armstrong, Executive Director, Southwest Florida Water Management District
Brian Armstrong was appointed Executive Director of the Southwest Florida Water Management District in June, 2016. He brings more than 20 years of leadership in the water and environmental resource recovery fields, including managing some of the largest water resources projects in the state.  His work at the District focuses on promoting a regional approach to water supply planning and development, and leading efforts to develop innovative solutions to water resources management.  Mr. Armstrong is a licensed professional geologist, who holds a Bachelor's degree in Geology and Master's in Hydrogeology from the University of South Florida.
Dr. Jon Arthur, State Geologist, Director of the Florida Geological Survey
Dr. Jon Arthur is the State Geologist of Florida and Director of the Florida Geological Survey. He is a Fellow of the Geological Society of America, recipient of the American Institute of Professional Geologists Public Service Award and has served as president of the Florida Association of Professional Geologists and of the Association of American State Geologists. Jon is a member of both the Florida Board of Professional Geologists and the American Geosciences Institute Executive Committee and sits on a National Academy of Sciences committee.  Dr. Arthur has published more than 40 scientific papers and given more than 80 invited presentations, including congressional testimony.
Ernie Barnett, Executive Director, Florida Land Council
Ernie Barnett is the Executive Director of The Florida Land Council which consists of 19 Principal Members who own over 3 million acres of land located throughout Florida. The Council was formed in 1985 for the purpose of protecting the asset value of members' landholdings. The Council proactively engages regulatory and resource management agencies to help formulate public policies that allow its members to continue their stewardship of their lands.  Ernie is also the Director of Water and Land Advisors, Inc., an environmental consulting firm specializing in Florida water supply, water quality and environmental issues. Ernie has more than 35 years of water resources management experience and 30 years of public service, during which he contributed to several landmark environmental laws. He had a lead role in the successful passage by the Florida Legislature of the Lake Okeechobee Protection Act; the Everglades Restoration Investment Act, which has provided more than $1 billion for Everglades restoration; and the Everglades Improvement and Management Act and the 2013 Everglades Improvement and Management Act.   He also helped secure approval of the Water Resource Development Act of 2000, in which Congress authorized the Comprehensive Everglades Restoration Plan.  In 2013, he led the South Florida Water Management District as Interim Executive Director.
Mr. Barnett has a Master of Science in Environmental Engineering from the University of Florida and Master of Science in Biology and Bachelor of Science in Environmental Resource Management and Planning from the University of West Florida.
Dr. Mark Barrett, Associate Research Scientist, Florida Fish and Wildlife Conservation Commission
Dr. Mark Barrett currently works in Tallahassee as an Associate Research Scientist with the Florida Fish and Wildlife Conservation Commission (FWC) within the Fish and Wildlife Research Institute under the Center for Spatial Analysis. He is the Research Lead for a GIS modeling group and conducts species distribution modeling of terrestrial and freshwater species throughout Florida. Mark conducts many spatially explicit and statistical analyses in support of FWC biologists and for landscape-scale projects.  In 2007, Mark began working for FWC in the Gainesville Wildlife Research Lab as a GIS Analyst providing support on study design, spatial analyses, statistics and mapping on many projects throughout Florida related to fish and wildlife, habitat use and landscape characterization. Prior to this, Mark was a Fish and Wildlife Biologist with the US Fish and Wildlife Service at ARM Loxahatchee NWR from 2005-2007 where he coordinated research among staff and other agencies/institutions. His work consisted of nonnative plant research and control, hydrological and water quality research, studying off-site impacts to refuge resources, and monitoring flora and fauna on the refuge. Mark attended University of South Florida and received a B.S. in Biology in 2000 and a Ph.D. in Biology (Ecology) in 2004.  His doctoral research focused on plant-animal interactions, specifically on herbivore impacts by Florida Key deer on upland to coastal native plant communities and interactions with plant defenses and insect communities. Other research included: effects of elevated atmospheric CO2 levels on flora and fauna in scrub habitat, assessing Cactoblastis moth damage on Opuntia species, and sea grass restoration. 
Mike Branch, Director of Operations & Regulatory Affairs, Florida Forestry Association
Mike Branch is the Florida Forestry Association's Director of Operations and Regulatory Affairs. Mike followed in his father's footsteps with his forestry career. His father was a forester for the Florida Forest Service, who later worked with Rayonier in Lake City, FL.  After high school, Mike attended the University of Florida's School of Forest Resources and Conservation. He worked in the forest industry in a variety of capacities for 38 years, prior to moving to Tallahassee in 2015 to work for the Florida Forestry Association.
Jen Carlisle, Central West Regional Partnership Manager, Visit Florida
Jen Carlisle is a Regional Partnership Manager for VISIT FLORIDA, working with core tourism businesses in the central west region of the state to maximize their advertising, marketing, and promotional opportunities through cooperative initiatives. Jen is a native Floridian and prior to joining the VISIT FLORIDA team, spent the last decade working in hospitality and tourism in Clearwater, most recently as the Tourism Marketing Director for Clearwater Marine Aquarium. Jen passionately advocated for the industry through several years of service as an appointed member of the Pinellas County Tourist Development Council and VISIT FLORIDA Industry Relations Committee. 
David Clark, Deputy Secretary, Land and Recreation, Florida Department of Environmental Protection
David Clark is the Deputy Secretary of Land and Recreation at the Florida Department of Environmental Protection (DEP). He first began his tenure with DEP in 2004, where he worked in the Division of State Lands and then the Office of Cabinet Affairs until 2010. After four years in the U.S. Army as an officer with the 82nd Airborne Division, America's Guard of Honor, David returned to DEP in 2014, serving as both Director of Cabinet Affairs and Deputy Director of State Lands. From 2016 to 2017, David served DEP as the Director of State Lands, a position confirmed by the Governor and Cabinet. David's leadership experience in the Army, his tenure at DEP, and his education, which includes a real estate license and degrees in business administration and accounting, assist him in leading the Florida State Park System and the Division of State Lands. In his time at DEP, David has worked closely with Florida's cabinet agencies and numerous stakeholders, including the military and environmental groups, to accomplish many strategic acquisitions that has helped ensure the protection of Florida's land and water resources while balancing recreational opportunities.
Jonathan Dain, Director, University of North Florida Natural Resources Leadership Institute
Jonathan Dain is a University of Florida faculty member with appointments in both the School of Forest Resources and Conservation and the Center for Latin American Studies.  He directs the Florida Natural Resources Leadership Institute (UF/IFAS - http://nrli.ifas.ufl.edu/index.shtml ) a training program focused on conflict management, facilitation, communication and leadership skills for natural resource professionals.  "NRLI" Program Fellows come from across the state and hail from government agencies, non-profits, agriculture, academia, tribal entities and industry.  Jon teaches graduate classes in his areas of expertise and is a Florida Supreme Court certified mediator.  He began his post-college career 35 years ago as a Peace Corps volunteer (Paraguay – Beekeeping Extension) and spends most summers provides training to students and natural resource managers in Latin America, primarily Brazil and Mexico. 
Traci Deen, Executive Director, Conservation Florida
Traci Deen is an Orlando based attorney overseeing statewide land conservation efforts as the executive director of Conservation Florida, a non-profit focused on protecting Florida's natural and agricultural landscapes. A 6th generation Floridian born in Homestead, Florida, Traci is passionate about protecting Florida's wild and working lands for the generations of Floridians to come. Her work with CFL includes advocacy at the local, state, and national level, fostering strategic partnerships, engaging the community and community leaders, and facilitating large-scale land transactions. Active in the community, Traci is a member of the Orange County Bar Association & Legal Aid Society. Traci is currently serving as Legislative Director for the Florida Association for Women Lawyers, the Chair of the Junior Leagues of Florida State Public Affairs Committee, and on the Board of Directors of AMI Kids Orlando. She lives in Winter Park, Florida with her husband Michael, baby daughter Molly, and pup Maggie Sue.
Callie DeHaven, Director, Division of State Lands, Florida Department of Environmental Protection
Callie DeHaven is a fifth-generation Floridian whose passion for conserving Florida's historic and natural landscapes led to her dedicating more than two decades to conservation planning, land acquisition and land stewardship. DeHaven's experience in the public, nonprofit and private sectors and commitment to strong partnerships complements our talented Division of State Lands team as they work to acquire, protect and preserve lands that will greatly benefit outdoor recreation and our natural and water resources across the state. She graduated from Marymount University, earning a Bachelor's Degree in Liberal Arts with a focus in Legal Studies. 
Mallory Dimmitt, Vice President, Strategic Development and Business Relations, Lykes Brothers, Inc.
Mallory is VP of Strategy at Lykes Bros, Inc., a multi-generation family agribusiness with significant landholdings in Florida and Texas, and President of the Florida Wildlife Corridor organization that champions connecting and protecting the Corridor statewide. Mallory led The Nature Conservancy's Colorado Plateau Initiative, assessing large-scale conservation opportunities in the Four Corners, after directing the Southwest Colorado Project for the Conservancy's Colorado Chapter. She earned her B.S. in Natural Resources from the University of the South (Sewanee). Mallory was awarded a Doris Duke Conservation Fellowship at Duke University's Nicholas School of Environment where she earned a MEM in Environmental Economics and Policy. 
W. Eric Draper, Director of the Division or Recreation and Parks, Florida Department of Environmental Protection 
Eric Draper is Director of the Division or Recreation and Parks, Florida Department of Environmental Protection.  Florida's 175 state parks and trails and 1000 employees provide more than 32 million unique visitor experiences on 800,000 of the state's best managed conservation land and generate more than $3 billion in economic value each year. Prior to joining the Florida Park Service in 2017, Eric Draper was President of Florida Audubon Society and during his decades-long career was a leading advocate for water and land conservation and Everglades restoration and is credited with helping secure billions in environmental spending and playing a lead role in most state environment policy decisions over the past 25 years. 
Christopher Emmanuel, Director of Infrastructure & Governance Policy, Florida Chamber of Commerce
Christopher Emmanuel is the Director of Infrastructure & Governance Policy at the Florida Chamber of Commerce, where he serves as the primary advocate for transportation, utilities, energy, and property rights issues on behalf of the state's largest business association. Emmanuel sits on the Florida Transportation Plan and Strategic Intermodal System Implementation Committee, serves a Railroad Advocate for GoRail, and is a member of the James Madison Institute's Board of Advisors. Emmanuel holds a B.A. in Political Science and History from the University of Florida and J.D. from the Florida State College of Law.  Emmanuel and his wife Elizabeth live in Tallahassee.
Ken Frink, Director, Operations, Lands & Resource Monitoring Division, Southwest Florida Water Management District

Ken Frink is a licensed professional engineer and began his career with the Southwest Florida Water Management District in 2013 and is the Director of the Operations, Lands and Resource Monitoring Division.  His responsibilities include the management of nearly 350,000 acres of conservation lands and 87,000 acres of conservation easements.  He is also responsible for all the Districts flood control and water conservation structures as well as the data collection that supports the Districts water supply, water quality and flood control efforts.  Prior to coming to the District he served several roles including the Assistant County Administrator and Public Works Director for Citrus County, Florida as well as the City Engineer for Winter Haven Florida.
Kipp Frohlich, Director, Division of Habitat and Species Conservation, Florida Fish and Wildlife Conservation Commission

Kipp Frohlich is the Director of the Division of Habitat and Species Conservation in the Florida Fish and Wildlife Conservation Commission.  He has a M.S. in Wildlife Ecology from the University of Florida and B.S. in Biology from Furman University.   He has over 30 years' experience working to conserve Florida's wildlife; working for the U.S. Fish and Wildlife Service, the Florida Department of Natural Resources, the Florida Department of Environmental Protection and the FWC since its inception in 1999.   Kipp has extensive experience in management of high profile species including manatees, marine turtles, panthers and bears, as well as the human dimensions of wildlife management.  He grew up in Pinellas County, has lived in Gainesville and Ft. Myers and now resides in Tallahassee with his wife Leslie. 
Tom Hoctor, Research Associate Professor, Department of Landscape Architecture, University of Florida
Tom Hoctor is director of the Center for Landscape Conservation Planning at the University of Florida.  He has an undergraduate degree in History and Science at Harvard University and a Master's and Ph.D. in Conservation Biology and Landscape Ecology from the University of Florida.  Tom's research interests include the application of landscape ecology and conservation biology to regional planning, wildlife corridor design, wildlife habitat modeling and policy, and GIS applications in conservation planning.  He has served as principal or co-principal investigator on many regional-scale conservation analysis and planning projects in Florida and the U.S.  His current projects include the Florida Ecological Greenways Network, the Critical Lands and Waters Identification Project, the Identification of Florida Air Force Installation Conservation Priorities project and working with the National Wildlife Refuge Association and the U.S. Fish and Wildlife Service on Regional Landscape Conservation Design projects in Florida and the Gulf Coast.
Wes Howell, Chief, Bureau of Natural and Cultural Resources, Florida Department of Environmental Protection
Wes Howell, of the Florida Park Service serves as the Chief of the Bureau of Natural and Cultural Resources which provides coordination, training, guidance, and technical support for state parks in the areas of natural resource management, historic preservation, archaeological resource management, GIS systems and databases, as well as houses the Florida Conservation Corps; a 65-member AmeriCorps program dedicated to invasive and exotic plant treatment in state parks. Wes started his career 24 years ago in the DEP Chemistry Laboratory, then spent time in the private sector performing land management services including prescribed burning and real estate consulting; then moved to the Florida Forest Service's land acquisition program before returning to DEP with the Florida Park Service.
Christine Johnson, President, Conservation Foundation of the Gulf Coast
Christine P. Johnson is a fifth generation Floridian who shares the Foundation's vision of creating an emerald necklace of pocket parks and protected lands along the Gulf Coast. After earning a BS in Business Administration from the College of Charleston and an MBA from the University of Florida, Christine worked in management and consulted with Fortune 500 companies in fields ranging from manufacturing to media. Her Florida roots run deep, and this Manatee County native couldn't stay away for long. Christine has worked in the nonprofit sector in this region since 2004. She successfully completed the Girl Scouts of Gulfcoast Florida's $7M capital campaign to build a regional headquarters and then served as Director of Development for Ringling College of Art and Design overseeing their largest fundraising campaign, leading a team of five to raise over $100M. In October of 2011, she was named President of Conservation Foundation of the Gulf Coast where she works to save land and ensure public access to natural places. Nature is where Christine's family spends their time together. Her husband, Bill, and their teen-aged children, Grace and Tom, enjoy hiking, camping, backpacking, and being anywhere there is water to swim, fish, sail, or scuba.
Chuck Johnston, Rancher, 2J Farm LLC
Chuck Johnston and his wife Peggy own and operate 2J Farms in Sarasota, Florida. The farm was started by Mr. Johnston and his wife in the early 1970's. They proudly produce cattle. Mr. Johnston is actively involved in his local community. He is currently on the Beef Advisory Council for the Florida Farm Bureau as well as a vice chair for the Soil and Water Conservation District Board of Sarasota County. He is also a cattlemen's director for the Sarasota Cattlemen's Association and the Florida Cattlemen's Association. Mr. Johnston often invites elected officials to the farm to show them the successful impact of BMP's on the land. 
Jim Karels, Director/State Forester, Florida Forest Service, Florida Department of Agriculture and Consumer Services
James "Jim" Karels is the Florida State Forester and Director of the Florida Forest Service and has more than 37 years of experience in prescribed burning, wildfire suppression and land management throughout the United States. A native of rural western Minnesota, he graduated from the University of Minnesota with a degree in Forest Management. Jim is a national leader in both prescribed fire and wildfire management. He was the president of the National Association of State Foresters (NASF) and is currently representing all 50 states as the NASF Fire Committee Chair. Jim also serves on other national committees including the Wildland Fire Leadership Council and the Wildland Fire Executive Council to provide support for the implementation and coordination of the National Fire Management Program in the United States.
Britney Moore, Office of Greenways and Trails, Florida Department of Environmental Protection
Britney grew up in North Florida Area, providing for extensive knowledge of her dedicated region. Britney has worked for Florida's award-winning state park system for several years and is currently the North Florida Regional Coordinator with the Office of Greenways & Trails. She attended Florida State University where she studied Geography and Environmental Studies. As a member of the Junior League of Tallahassee, Britney has found a way to nourish her love of volunteering in the community.  She frequently explores Florida's incredible recreational opportunities, whether it be participating in biking and kayaking events or taking her dogs, on hikes. So, look for her in your area on the weekends.
Terry McCaffrey, Col, USAF (Ret), Executive Director, Florida Defense Task Force, Enterprise Florida
Col Terrance J. McCaffrey, USAF (Ret), is currently the Executive Director of the Florida Defense Support Task Force at Enterprise Florida Inc. Prior to this position, Terry served the State of Florida as the Planning and Design Administrator with the Florida Fish and Wildlife Conservation Commission and as Assistant Director of the Division of Recreation and Parks with the Florida Department of Environmental Protection.  He transitioned to state government after more than 26 years of active duty service in the US Air Force.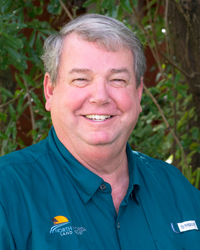 Jim McCarthy, President, North Florida Land Council
Jim has more than thirty years of experience in management, business development, fundraising, public relations and government affairs. In those years, he has lobbied at the local, state, and federal levels; managed political campaigns; created and managed not-for-profit organizations. He joined the North Florida Land Trust as Executive Director in 2014 and was named President in 2016. In December of 2016, Governor Rick Scott appointed him to the Florida Environmental Regulation Commission serving until 2019.  At former Governor Bob Graham's request, Jim serves on the Steering Committee of the Florida Conservation Coalition.  He was recently appointed to the Advisory Board of Branch Banking & Trust (BB&T).  He serves on the Board of Governors of the Jacksonville Regional Chamber of Commerce, the Board of Directors of THE PLAYERS Championship Village. Jim has served as a member of the University of North Florida's Foundation Board and now serves on the University's Athletic Director's Cabinet.  He has served on the Board of Directors of THE First Tee of Jacksonville. He has been a Babe Ruth Baseball Coach for an Under 19 Team.  He was the 2016 & 2017 Tournament Chairman of the Web.com Tour Championship.  He was also a committee chair for THE PLAYERS Championship and a volunteer for the past 34 years. He is currently the Volunteer Chairman of THE Junior PLAYERS and ANNIKA Championships. Jim holds a Bachelor of Science with a major in Public Administration from George Mason University in Fairfax, Virginia. Jim and his wife Liz live in Ponte Vedra Beach, Florida and enjoy time with their two sons, a daughter-in-law and two new granddaughters.
Lauren Natwick, Assistant Program Coordinator, Division of Recreation and Parks, BNCR-Florida Conservation Corps, AmeriCorps
Lauren Natwick grew up in Mathews County, Virgina where she spent most of her time outdoors, and volunteering. She heard about AmeriCorps from a friend and decided to get involved, which in turn changed her focus, and her life. Lauren moved to Nevada and served with the Nevada Conservation Corps (NCC) for two terms in Las Vegas and Reno where she met her husband, Jesse Natwick. In 2011 they decided to move back East to be close to family, and both served in the Florida Conservation Corps (FLCC). In 2013, Lauren was honored to work for the Institute of Florida Agricultural Sciences (IFAS) as a Curricula Demonstrator for the Center For Aquatic Invasive Plants, and in 2014, came back to the Florida Park Service as Assistant Program Coordinator for the Florida Conservation Corps. It is in this positionshe feels most connected to the Florida Park Service, National Service, and the environment which in her opinion, are the best of all worlds. 
Jon Oetting, Conservation Planner, FNAI
Jon Oetting has been with FNAI since 1999. He currently is involved in several planning projects, including GIS analysis and computer modeling of rare species habitat and land acquisition priorities for the Florida Forever program. Jon oversees the Inventory's environmental review and data distribution efforts and manages the content and organization of the FNAI website. He has a master's degree in anthropology from the University of Illinois and a Master of Science in Planning degree from Florida State University. 
Linda Reeves, Land and Recreation Grants Section Manager, Florida Department of Environmental Protection
Linda Reeves is an OMC Manager within the Land and Recreation Grants Section/Linda has over 40 years of experience in planning, including parks and recreation planning, Linda has provided extensive technical assistance to Florida's communities to integrate a wide range of community objectives and community visioning.  Before to moving to the Division of State Lands -Linda worked with the Division of Recreation and Parks in Grants and Planning for more than 35 years.  Linda has a master's degree in Public Administration from Nova Southeastern University.   In her free time, Linda enjoys concerts, football, and traveling with her two children and 5 grand kids.
Darica Smith, Deputy Executive Director, Florida Department of Environmental Protection
Darica began working at DEP in 2017 as the Deputy Executive Director for the Office of Strategic Initiatives and Development. She is responsible for overseeing the Offices of Communications, Marketing, Performance Measures and Change Management, Training and Development, as well as, the Office of the Ombudsman. Prior to joining DEP Darica worked for 16 years with the Florida Department of Agriculture and Consumer Services (FDACS). During the last 7 years of her tenure with FDACS, Darica served as the Department's Chief of Human Resources, Assistant Director for Administrative Services and the Director of Marketing and Development. In these roles, she developed the skills necessary to effectively operate within state government while working with and leading large teams to improve processes and implement new programs. One of the highlights of her career has been to help develop professional development and leadership programs within state government.  
Jim Strickland, Blackbeard's Ranch
Jim Strickland comes from a family that has been ranching in Florida since the Civil War. He is the owner of Strickland Ranch and managing partner of Big Red Cattle Company and Blackbeard's Ranch, Ranch, a 4,500 acre cow/calf operation that borders Myakka State Park He just completed an NRCS Wetland Reserve Easement on a portion of Blackbeard's Ranch and is currently in the process of putting a portion under a Florida Forever Conservation Easement. Jim has also placed a portion of Strickland Ranch under a SWFWMD conservation easement. Jim was awarded the 2018 Florida Cattleman's Association Environmental Stewardship Award and Florida Agricultural Commissioner's 2018 Agricultural-Environmental Leadership Award for his work on Blackbeard's Ranch.  Jim also was named as one of Florida Trends 500 Most Influential Business Leaders for 2018 for his work in agriculture and conservation. 
Ellen Thomas, Meeting Sales Manager, Visit Sarasota
Ellen is a career meeting professional in the corporate sector. She is delighted to promote Sarasota County to fellow meeting professionals and has a full understanding of their needs. As meeting sales manager, she provides destination information, site visits, FAM Tours, RFP distribution and valuable meeting incentives to groups considering Sarasota County. 
Garrett Wallace, The Nature Conservancy
Garrett Wallace is an experienced professional in conservation issues working with Federal, State and corporate entities. Throughout his career, Wallace has worked extensively with Federal interests securing the funding to preserve over 40,000 acres of Florida Ranchland into the USDA Wetland Reserve Program.  Additionally, he served as the Director of Federal and Tribal Affairs for the South Florida Water Management District, representing Everglades Restoration in Washington D.C from 2008 through 2011. In 2016, Garrett joined The Nature Conservancy as the Florida Government Relations Manager overseeing conservation matters in Tallahassee and Washington D.C.  
Byron Ward, Chief, Bureau of State Owned Lands Inventory, Florida Department of Environmental Services
James "Byron" Ward is the Chief of State Owned Land Inventories.  He was born in Panama City, Florida, the third son to an United States Air Force family.  Byron started his career by attending Chipola Jr College in Marianna, Florida, and The University of Florida.  Five years in the United States Army as a Decentralized Data Service Support System manager (DAS3) participating in Desert Shield and Desert Storm Iraq war, tempered his data management skills.  After completion of service, Byron became a data manager within the Federal Bureau of Prisons (FBOP) UNICOR division.   After 14 years, Byron completed his service with the FBOP as the Level 3 Director of Technical Support Manager for the UNICOR division of Data Conversion and Process Management.   Byron specializes in process improvement and capture and use of data.
Shane D. Wellendorf, Conservation Biologist, Tall Timbers Research Station
Shane D. Wellendorf is Conservation Coordinator for the Tall Timbers Research Station located just north of Tallahassee.  Shane has more than 20 years of land management and conservation easement experience.  Established in 1958, Tall Timbers is a national leader in fire ecology, resource management, and forestry research.  Tall Timbers also serves as a regional land trust and holds conservation easements on more than 132,000 acres in North Florida and South Georgia.
Jim Wood, Multimodal Planning Practice Leader, Kimley-Horn and Associates
Jim Wood has more than 22 years of Florida planning experience. He currently leads a multimodal planning practice with Kimley-Horn and Associates in Orlando. He has led state level planning efforts through previous roles such as Chief Planner with the Florida Department of Transportation and Chief of the Office of Greenways and Trails at the Florida Department of Environmental Protection. Jim has extensive experience leading programs, teams, and planning efforts through complex dynamics to successful outcomes. He oversaw the 2015 Florida Transportation Plan, the 2012 Florida Greenways and Trails System Plan, and the launch of Florida's Shared-use Nonmotorized (SUN) Trail Program. He has chaired various committees and councils and served as staff director for two state transportation task forces and the Florida Greenways and Trails Council. Jim also served on the Executive Board of American Trails (AT) for a decade and continues to serve as an AT Advisor. He has a BS in Telecommunications from the University of Florida and a MS in Geography from Florida State University.
Julie Wraithmell, Executive Director, Audubon of Florida
Julie Wraithmell is Executive Director of Audubon Florida, Florida's oldest statewide conservation organization. With a staff of 70 and 45 grassroots chapters, Audubon works to support public land acquisition and management, wildlife conservation, water protection, and climate resilience, while managing sanctuaries of its own. Julie has worked for Audubon in various capacities for 13 years, and previously worked as a biologist for the Florida Fish and Wildlife Conservation Commission where she created the Great Florida Birding Trail. She has a BS in Biology from Duke University, an MS from Florida State, and lives in Tallahassee with her husband and daughter.
Noah Valenstein, Secretary, Florida Department of Environmental Protection
Noah Valenstein was appointed Secretary of the Florida Department of Environmental Protection by Governor Rick Scott on May 23, 2017. He returned to DEP with nearly 15 years of public service experience with governmental agencies and a passion for natural resource protection. Noah most recently served as executive director for the Suwannee River Water Management District, where he oversaw the protection and conservation of water and land resources across 15 counties. His previous experience includes working on environmental, agricultural and energy issues in the Executive Office of the Governor and Florida House of Representatives, as well as with several of Florida's leading environmental nonprofit groups. With a strong belief in the power of partnerships, Noah is focused on building relationships between diverse groups of stakeholders, including environmental and agricultural groups as well as local communities and businesses. He's built a reputation of bringing groups together to overcome obstacles and work toward a shared goal of environmental protection and is committed to continuing in this spirit of partnership and service as DEP Secretary. Noah was born in Gainesville, Florida, and graduated with honors from the University of Florida's School of Natural Resources and Environment. He also holds a law degree from Florida State University. Noah resides in Tallahassee with his wife, Jennifer, and daughter, Ava.