Melting Ice
Today, ice and snow still cover 10% of Earth's landmasses and 7% of the oceans. This is a reminder that we are still in an ice age, as you learned in the Temperature Over Time module . An ice age, a period of time when Earth has permanent ice caps and global temperatures approximately equal to or lower than present temperatures, is divided into glacial and interglacial periods. The last major glacial climate reached its peak about 20,000 years ago as glaciers covered vast areas of Europe and North America. During this time period, so much water was in the form of ice that sea level was about 120 m (395ft) lower than today. Scientists think this last glacial period ended about 18,000 years ago as two orbital cycles synchronized to cause warmer summers across the Northern Hemisphere. Earth has been in a warmer interglacial period since then; and for the past 8,000 years, ice core records indicate that Earth's climate has been relatively stable.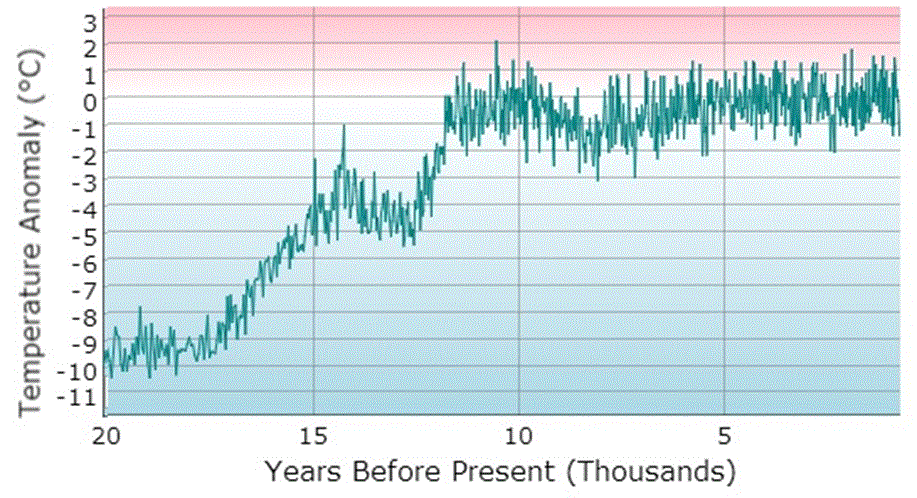 Temperature Anomaly Data Over the Last 20,000 Years
Places on Earth where it is so cold that water is in its solid form as snow or ice are known as the cryosphere. The cryosphere includes ice and snow (precipitation made of ice crystals) in the form of frozen ground, such as permafrost, ice sheets, glaciers, and sea ice. The following provides a brief description of each of these forms of ice and snow.